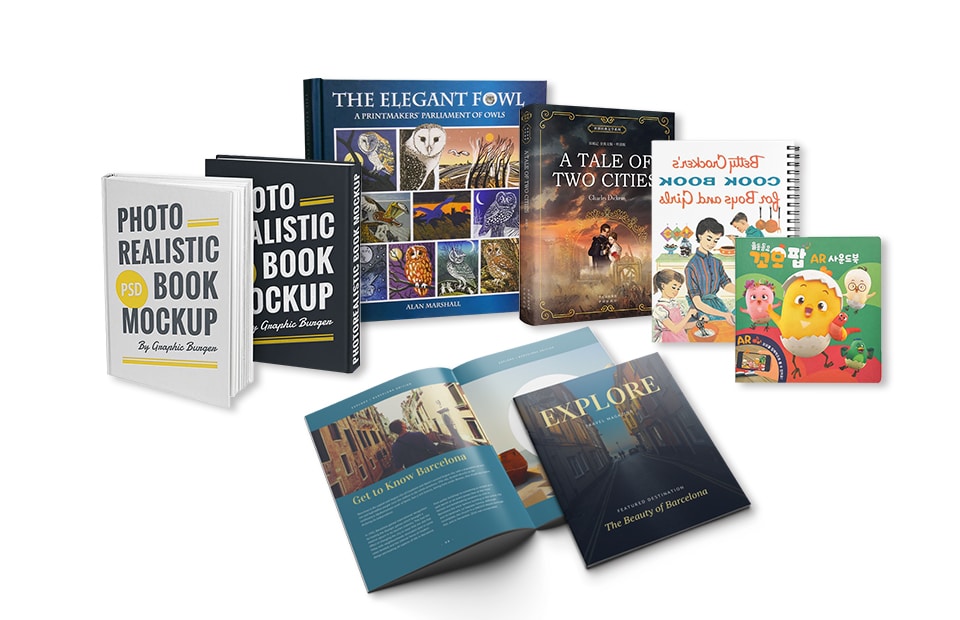 Book printing, the printing of books, periodicals, etc. as the main products. The printing step includes page design (design and content), proofreading documents, and machine printing before printing. After printing, including folding, binding, etc.
In our daily life, the company of books is indispensable. From childhood to adulthood, we acquire knowledge by reading various books, or use it as an entertainment tool to pass the time.
*Get A Free Quote With No Obligation
Custom Book Printing With YBJ Book Printing Factory
Cost-cutting 40% than your local printer
Free cover template, interior template and free artwork checking
Professional quality book printing
More book printing experiences for self-publishers
5 days production time for soft cover book printing
Many designers often think that the size of the book is the same as our common A3, A4, A5 size, but in fact this size is only suitable for a small amount of digital printing in graphic stores, and really large printing equipment needs to take into account the equipment The maximum size of the book and the size of the bite, so the printing size of the book and picture album will be different from the size of our common printing paper.
Book printing size of about A3 size: 8 open 420mm*285mm
About A4 size book printing size: 16 open 210mm*285mm
Book printing size of about A5 size: 32 open 210mm*140mm
Book printing size of about A6 size: 64 open 140mm*100mm
The above are the commonly used sizes for book printing. According to this size, the printing is cheaper. The reason is that the imposition printing is performed according to the width of the printing machine and the paper, which saves paper and saves time. Of course, it saves costs. If you need some special designs,it is best to communicate with us, we will check and find the best ways to save costs for you.
Since 1998, YBJ Printing has printed high-quality Book Printing, accounted 50000 square meters and equipped with advanced machines, makes us can offer reasonable and competitive pricing. More importantly, our experienced and professional staff are all ready to provide hands-on management and superior customer service.welcome to contact us to print your Book Printing in China YBJ.
*Get A Free Quote With No Obligation
Book Printing Not sure where to start?
Tell us about your book. Usually, the main factors considered are the following aspects: the positioning and use of the book, the number of printing, the size of the format, the paper used, whether there are special process requirements, etc. Each type of book has different printing needs.
Is this your first book? Let us help you navigate the printing process. Our experience will help you cut through the jargon and confusion of what can be a daunting experience. Have you done this before? Let us show you why YBJ printing should be your go-to book printer.
As a licensed and professional book printing company in China, we have all the means to protect your book copyrights for export purposes. So what are you waiting for? Just get in touch with us today to get a custom quote for your request. We will make sure that you get exactly what you are looking for your book printing requirements. We also offer our services for printing comic books, photo books, cook books, magazine,school book,and much more! Hope to hear from you soon!
Tips To Prepare Your Book Printing Artwork for Best Quality Printing
We recommend only high resolution PDF files for printing.
If you want your children book printing to be vibrant and colorful then make sure to include more images and less text.
We prefer using digital images over hand painted images for the highest quality printing.
If you can only provide us with hand drawn images then make sure that they are scanned at a very high resolution for the best results. For more information, please contact us 
Why Choose Us To Print Custom Spiral Bound Book Printing ?
State of the Art Printing Quality
At YBJ Printing, we offer custom book print service,we are committed to provide you with state of the art book printing quality that is second to none. Over all these years, we have printed an endless number of some of the most extraordinary and incredibly beautiful books for our clients in China, US and all over the world. 
One thing that sets us apart from our competitors as a book printing company in China is the fact that we use soy ink to print. Children's books printed using soy ink makes them eco friendly and completely safe to use by kids.
Customized Services of Customized Services
Another reason for you to choose our book printing services is that we make it really convenient for you to fulfill all your book printing needs using our customized services. From paper quality, paper size, binding method to printing quantity, we have a wide range of options to choose from so that you get exactly what you are looking for in your children book printed by us.
Cost Effective Prices on custom children's book
The best thing about getting your book printing done by our company in China is the relatively low printing prices despite high quality printing.
Quick Printing Supply Services
As children's book printing companies in china,YBJ Printing, we are experts at printing books really quick. It makes us an ideal printing service in China to meet your urgent order deadlines without any extra costs. We generally take a period of one week for printing soft cover books and about two weeks for hard cover books.
We offer custom online quote for your book printing requests from China, US and any other country, and that too absolutely free.
YBJ is one of the best China Book Printing Factory providing Full Offset Printing Services of paper products such as :
Children Board Books, Children's Books printing, Soft Cover Books, Hard Cover Books, Magazines, Novels, Game Box Sets, Commercial Catalogs, Comic Book, Text Book printing, Agenda Notebook, Wire-O Books, Calendars, Cards ,Calendars etc. in very good quality, cheap price and fast delivery time.